Two Mistakes: A Non-Musical Musical.

My epic, narrative (warning: very long) poem, Two Mistakes took second place prize in the 2014 Tom Howard/Margaret Reid Poetry Competition. I believe it is among my best works.
Here is the press release.
Here is the poem.

The idea for this came to me at least two decades ago. After reading A Comedy of Errors, I couldn't help but feel Shakespeare missed the better themes inside the story.

In brief summary, Shakespeare wrote about a pair of identical twins separated when they were very young by a violent storm at sea. One set of twins were slaves, one set were masters. One master and one slave were rescued and returned home to their native city of Ephesus. The other child and his slave were rescued by a different boat and were seemingly forever lost. The lost twins grew up unaware of their siblings. They go on a mission that takes them to the Ephesus. Mistaken identities ensue.

Shakespeare was often ahead of his time regarding themes. On other occasions he was a product of his time. It seemed to me that the question of nature versus nurture was left unexplored and that the consequences of slavery is not dealt with. I updated the piece, beginning it in the 1820s in Louisville, Kentucky, a city at the border of North and South. A steamboat explosion along the Ohio river separate the pairs of twins. One child and slave are rescued and taken back to their home in Kentucky, a slave state. The corresponding pair are placed in an ash tub as part of their rescue. They wash down the river to where they arrive in Troy, Indiana. There, they are raised by an abolitionist family. Twenty years later, circumstance leads the twins who were raised by abolitionists to go to Louisville where they encounter those raised by slave owners.

Although my piece retains some of the farcical nature of the original, it also undertakes a serious exploration of the nature of slavery and how the institution destroys both slave and slaveholder.
The poem is presented in metered verse. I envisioned my piece as being the book to a "non-musical" musical, in the tradition of Showboat, but with more bite.

Snippets and selections from the story.

At one year of age, the infants are separated from each other during a steamboat explosion.

It would never have burst were it tough as Old Hans:
If the boiler 'd been forged from the flesh of its stoker.

Anthony, the slave, and Frances, both one-year-old are set inside a tub used to collect ashes and launched down the river before the steamboat finally sinks.

Enduring a rite that was grimly baptismal
The two in the tub got a rude sort of christening.

They are rescued by Demetrius Darling, a Quaker and abolitionist and raised to adulthood in a free land. Demetrius loses the deed of his farm to a swindler from Louisville. Of Demetrius:

In a wreckage of shadows, alone and alone,
His soul crumbled to dust and then sifted through floorboards.
Anthony and Frances journey to Louisville to settle their father's account. Anthony goes disguised as a slave; Frances as a man.
Meanwhile, at the Sharper family estate, Annie (the twin of Frances) has mixed feelings regarding her pending arranged marriage to a pompous aristocrat. While reading Thackeray:

Without breaking her rhythm she switched from her book
To her grievances, "Dare and the world always yields?
I'm just property." Anthony shot her a look.
"To daddy, I'm merely some crop from his fields.
To be bartered for status.

Of course, her slave Anthony is more the prisoner. As he polishes the piano:

Each key thumped as he rubbed in a smudge of bees' wax.
He began at the bass end, the throatier notes.
Tensions peaked then released as he scaled whites and blacks.
Bitter tones were relieved by their sweet antidotes.
There were candle snuff notes that could put out a flame.
Some delivered a shiver without a deliverance.
There were notes for emotions that no one could name.
...
[the] Notes were steep steps on his way to the gallows.
Once the last key was beat, his ascension complete,
The piano lid dropped with a jolt swift and shallow.

This is long enough for a sampling. The stage is set. When Moses and Frances arrive, mistaken identities create a storm of problems ending in a duel. Once Moses and Frances recognize their heritage, they unite to rescue Anthony and his mother and escape back to Indiana.
I hope those of you who take the time to read it will enjoy.
I'll write another post regarding Two Mistakes tomorrow and include the prologue which I wrote and then cut out.
-------------------------------------------------
Nikola Tesla, Arthur Conan Doyle and Dr. Henry H. Holmes are all characters in my thriller, A Predator's Game.
A Predator's Game is available in soft-cover and ebook editions through Amazon and other online retailers.
A Predator's Game, now available, Rook's Page Publishing.
-----------------------

Back page blurb.

Manhattan, 1896.

When the author Arthur Conan Doyle meets Nikola Tesla he finds a tall, thin genius with a photographic memory and a keen eye, and recognizes in the eccentric inventor the embodiment of his creation, Sherlock. Together, they team up to take on an "evil Holmes." Multi-murderer Dr. Henry H. Holmes has escaped execution and is unleashing a reign of terror upon the metropolis. Set in the late nineteenth century in a world of modern marvels, danger and invention, Conan Doyle and Tesla engage the madman in a deadly game of wits.

Martin Hill Ortiz, also writing under the name, Martin Hill, is the author of A Predatory Mind. Its sequel, set in 1890s Manhattan and titled A Predator's Game, features Nikola Tesla as detective.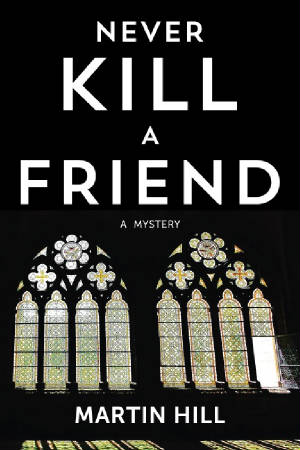 Never Kill A Friend, Available June 15, 2015